HISTORY
2011
May 26 till June 18, 2011
Investigations - on artistic research. Exhibition and debate about art and knowledge in relation to artistic research and PhD programs in the arts. In the presentation took part: Tine Wilde, with an installation in which she showed a special diagnostic of color, a "double track" of art and philosophy. Hans Scholten exhibited photography. Rosanne van Klaveren activated the minds with a "FOOD RELATED inquiry '. Jeremiah Day in his videos looked back on the historical sources of the Black Panther Movement. Monika Auch combined "the intelligence of the hand ' with an embryological form language. Arthur Elsenaar came with a video on Artificial Facial Expression. And Yvonne Dröge Wendel showed a registration of a community-related performance. A report of the debate is on SMAHK - debat Investigations
---------------------
February 7, 16.00 to 20.00 hrs.
Slow Art Talk, in relation to the exhibition "FMI Masters present". On Autonomy and Engagement, following the theme of truth and dissensus (November 2010). With Margo Slomp.
---------------------
January 13 to February 12
Opening Thursday, January 13, 2011 at 17:00
"FMI Masters present ', an exhibition of work by students of the FMI Masters, the Master education of the Academy of Fine Arts, Design and Pop Culture MINERVA / Hanze University Groningen. This year, with two divisions: Scenography, with Francesca Bardaro and Casandra Hernandez; and Painting, with Walter Pijkeren, Fabian Westphal, San Ji Ahn and Rob Bouwman.
---------------------
January 13 to February 12
Opening Thursday, January 13, 2011 at 16:30
Liesbeth Takken and Evert van Fucht
In SMAHK, the Municipal Museum of Contemporary Art Assen, there is an exhibition of works by Liesbeth Takken and Evert van Fucht. Purpose of the Museum is to combine artists on certain grounds of relationship with Assen in a kind of dialogue.
---------------------
2010

Friday november 26 from 16.00 till 18.00 hrs
Sandberglecture by Renée van de Vall. The lecture is, consistent with the presentation Zienderogen (nov 5 till dec 4), about observation. Renée van de Vall is professor of litarature and art on the Faculty of Arts and Social Sciences, Maastricht University.
Former Sandberlectures were given by Max Arian, Petran Kockelkoren, Gijs Frieling, Peter Sonderen, Henk Slager and Thijs Lijster.
---------------------
November 5 till december 4
Zienderogen, an exhibition focusing on art and perception, knowledge and the aesthetic attitude. It is a fundamental deepening of the DeFKa year theme Old School / New School in the light of the exhibition "Against Pragmatics", which was held in November 2009 and which was focused on the relationship between art and knowledge. Art and knowledge will be highlighted in DeFKA throughout 2010 and 2011.
The focus will be pointed on viewing behaviour, observation and visual experiments in arts, knowledge and judgment. It is an exhibition that considers questions like: How do we deal with reality, with art (including film, theatre), what do we really perceive and how close is this perception to reality?
The exhibition includes visual work by Erica van Loon, Arthur Stokvis, Barthold Boksem en Jan Scheerhoorn. There also will be a publication 'Zien der Ogen' with theoretical articles by Lucas den Boer, Arjen Klomp, Maria Noel Dourron, Deborah Hauptmann and Freek Lomme. Additionally, there are films by Erik Tode and Koos Buist.
---------------------
Monday, October 18 at 7.30 p.m.
Slow Art Talks. Artists and interested visitors talk about Art and Knowledge, this time on arts and cultural theory in the philosophical work of Rancière and Badiou. With contributions from lector art theory Margo Slomp.
---------------------
Friday October 8 from 16.00 till 18.00 hrs
A discussion on the function of Architectural Criticism, with introductory readings by Indira van 't Klooster (Architectuur Lokaal) and Bernard Hulsman (architectural critic and en publicist NRC Handelsblad). Organisezed by the Cercle Meudon, Architecture Platform Assen.
---------------------
Sunday September 12 at 15.30 hrs
On Monument Day a reading by architectural historian Tjalling Visser on 19th century architecture in Assen, organized by the Cercle Meudon, Architecture Platform Assen. Reading in Dutch.
---------------------
September 5 till October 9 >>> Canceled, due to waterdamage on the project.
Project Endogeen, an installation with graphic work by Esther Beysens (Eindhoven), Rosalie Bosma (Eindhoven), Sarah van den Dungen (Heesch), Lonneke Kerkhoven (Den Bosch) and Maartje van der Kruijs (Den Bosch).
---------------------
September 5 till October 9
A presentation of historical end contemporary school photography. With the cooperation of JAV Studio's Assen, collection Raven Assen, the Drents Archief en de Asser Historische Vereniging, organisezed by the Cercle Meudon, Architecture Platform Assen.
---------------------
September 5 till October 9
Opening Sunday september 5 at 16.00 hrs, simultaneous with the exhibition on School Photography.
In the SMAHK (Stedelijk Museum Assen voor Hedendaagse Kunst) an exhibition by two artists who live and work in Assen, Ronella Enter and Geert Schaap.
---------------------
September 3 till October 9
Opening Friday september 3 at 16.30 hrs.
Transformations, an architectural exhibition on transformations or a second life for older buildings, compiled by Victor Ackerman (DAAD Architecs, Beilen) and organized by the Cercle Meudon, Architecture Platform Assen.
---------------------
Friday June 18th from 3 till 5.30 pm
Related to the exhibition The New School there will be a discussion on School type and Architecture, with introductory lectures by Hanneke van Brakel (advisor on school architecture), Hans de Man (architecture historian), Hans Vesseur (Axes architects).
---------------------
June 6 till July 3
P R O P O S I T I O N an exhibition with drawings and sculptures by Frank Sciarone
---------------------
June 6 till 3 July
The New School, an exhibition on Architecture organized by the Cercle Meudon concerning school buildings.
Opening on Sunday June 6th at 3 pm by the Assen Aderman on culture and education Maurice Hoogeveen.
In this exhibition te focus lays on three schools:
ProAssen in Assen, designed by Onix Architects;
Gomarus College Assen, designed by Axes Architects;
AOC Terra in Meppel, designed by Klein Architects.
Those three architects will ach make a presentation with information about the school, physical as well as related to education. This includes the relationship in terms of content, education-architectural design, the extent to which education (renewal) affects the school building.
---------------------
June 6 till July 7
In the SMAHK (Municipal Museum Assen for Contemporary Art) a presentation by Mieke Hoogeveen and Boris Brink, who both live and work in Assen.
Opening on Friday April 9 at 5 pm.
---------------------
May 15 till 23 daily from 12.00 till 18.00 hrs.
DeFKa will present at the Art Pie 2010, Cultuurpark Westergasfabriek Amsterdam, with work by Susanne Bruynzeel.
Susanne Bruynzeel places the emphasis in her installations on the (changing) position of the viewer, who undoubtedly plays a role in the experience of space and the objects within. Light and the impact of light on the spatial environment also play a fundamental role.
She aims on a discovery of the rela-tionship between the determinate (internal) areas of the artwork and the indeterminate (external) environmenttal space; an identificating relationship between micro and macro level.
Susanne Bruynzeel studied Philosophy in Amsterdam, Art at the Royal Academy in The Hague.
---------------------
April 23
Friday april 23th 3.00 - 5.30 p.m
A discussion on Freedom, Art and Knowledge.
This afternoon is organised in The Month of Philiosophy (Maand van de Filosofie) which has Freedom as a theme.
15.00 Welcome
15.15 - 16.15 Introductory readings of around 15 minutes by:
Sybrandt van Keulen (philosopher, University of Amsterdam)
Ruchama Noorda (PhD student Arts, PhDArts)
Petri Leijdekkers (art historian)
Boudewijn de Bruin (philosopher, Hanze University Groningen)
16.15 - 16.30 Pause
16.30 - 17.30 Paneldiscussion with:
Maria Noel Dourron (theaterdesigner)
Janine Hoekstein (novellist and journalist)
René de Rooze (artist)
Gerhard Bos (PhD-student philosophy)
Toos Arends (art historian, Buro Leeuwarden)
17.30 Final party
Introduction and conversation leadership by philosopher Thijs Lijster.
The question DeFKa likes to have answored:
Is there a progress on thinking on freedom, especially in relation to what we call art, on what we expect from art or appoint to as art?
And how do we place this thinking on freedom, this knowledge in our culture? Which paradigms can be made or are hereto related and which role has (art) education to play within this?
General public is cordially invited and admittance is free.
Conversation will be in Dutch!

---------------------
March14 till April 17
Stephan Sjouke/Bouke Green
The exhibitions in the DeFKa Campis next year, are for the greater part aimed at schools, in addition to the literal 'school' also schools in the form of styles, movements, and paradigms. The duo-solo at the exhibition of Stephan Sjouke and Bouke Green gives a good example of such a paradigm, because both of them, although in different ways, use different techniques, intelligently deal with space. Both using special materials, and both of them focused on the one hand the gravity, the mass, and the other hand, the weightlessness.
After completion of his thesis "the return of cultural objects" at the Erasmus University Rotterdam in 1999, Stephan Sjouke finished in June 2009, the Royal Academy of fine arts in the Hague. In August 2009, he was selected for the Ron Mandos "best of graduates" exhibition. He has work in the Dutch Government Collection, the ABN AMRO collection & ARTSTART" in London.
Stephan Sjouke refers in his work on human civilization. In his view, men with traditions, customs and the use of natural materials and objects tries to ditinguish himself from his natural environment. Materiality plays an important role in his work.
Media artist and electroexpert Bouke Groen graduated in 2008 at the Academy Minerva in Groningen. His work can be seen as research and includes films/videos and installations in which sound plays an important role. In 2008, Bouke Green was nominated for the the Coba de Groot stipendium.
---------------------
Sunday, March 28, 3.30 p.m.
Reading on Supreme Architecture, by Geert Hovingh (theorist on architecture). (in Dutch)
Under the auspices of Cercle Meudon, Architectuurpodium Assen
By criticism on the theoretical foundations of history it is possible to see the European architecture, which had a critical position to the modernist movement, in its 'finished' history. This opening is a reason for the diversity; in addition to a continuity, there is also room for 'new' influences.
The discovery of the aesthetic category of the Supreme is one of those. After the denial in the post-war architecture - in its architecture and its criticism on the Modernists, the current generation recognizes this in the architecture of the Modernist Movement. (The Modernist Movement is the of the architectural successor of the engineers art and the XIX century neoclassicism, in which the XVIII century concept of Supreme plays a role in its program: the formation of the nation). Only in the contemporary architecture (in the context of globalization) it comes in a different shape.
---------------------
March 5 till 27
YNBERNE, in the SMAHK a presentation by Betty Simonides and Guus Slauerhoff. Two artists born Friesland who live and work in Assen. A good reason to present their work on opposite walls, with frictions in graphite and paint.

Guus Slauerhoff (Sneek 1945) foculizes on existance and the emotinal life of the human kind. Essential is the correllation with his environment within the moment. Within the esthetics of his existance he forms his ethics.
Betty Simonides (Hindeloopen 1952) works on the base of a concept in which she takes a flat surface as a principle. She paints according to 'agreements' and by using different materials she forms her 'palet'.
---------------------
March 5,6 and 7
Festival Vrouwenfilms Assen
Side-program in the DeFKa Campis:
Jeong Yoon Ahn (2 short films)
"My own life has a centrale rol in my work, therewith also my status in the Netherlands. I have a permit for a year, for studying purposes and I have to renew this every year. This procedure is difficult and very bureaucratic, and gives me an uncertain feeling. This feeling influences my work. Themes like cultural differences and Asian stereotypes are also important themes in my (Groningse) work."
Marianne de Lange (filminstallation)
She likes long bicycle trips, a reson for Marianne de Lange to look at the relations between body and spirit. She presents an installation in which you will find the contrast between serene meditation and aerthly business/congestion.
Eleonoor Grootoonk (1 short Art Film)
"Making art is like living the life of a nomad, always travelling from place to place. To see the world and to show your 'world' to the world."
NPS shortfilms
Ten films which together give an overview of the creative diversity of the Dutch shortfilm.
Arie, scenario en regie Michiel ten Horn. Caresse, scenario en regie Jim Taihuttu. Juli, scenario en regie Tim Klaasse. Kus, scenario en regie Joost van Ginkel. Met je mooie haren, scenario Bastiaan Tichler, regie Rutger Veenstra. Pivot, scenario Jan Eduards, regie André Bergs. Sunset from a rooftop, scenario en regie Marinus Groothof. Vaderdag, scenario Inge Hardeman, regie Froukje Tan. Val dood! scenario Luuk van Bemmelen, regie Arne Toonen. Zwemparadijs, scenario Lotte Tabbers & Anne Barnhoorn, regie Lodewijk Crijns.
Period + time:
Friday 5, Saturday 6 and Sunday the 7th of March from 13.00 till 17.00 hrs
Admittance free.
---------------------
Friday, February 12, 4 p.m. – 5.30 p.m.
Slow Art Talks, a public debate. (in Dutch)
Partly as a result of the exhibitions Once Mohr and YNBERNE DeFKa invites you to participate in a public debate that will focus on:
1. current artists-views and the contradictions between them;
2. contradictions as a source of knowledge for the viewer;
3. art knowledge in relation to science and culture in general;
The discussion is in the context of the annual theme 'Old School/New School' on the deveopment of knowledge and research on the role of theory development in art and art-education.
Participants, among others: Gert Wijlage (DeFKa), Adrie Snoek, Ron Ritzerfeld (Gallery Sign), Jerry Veldhuizen (Artez Zwolle), Margo Slomp (FMI), Betty Simonides, Guus Slauerhoff, Erik Tode, Adrie Krijgsman, Arjen Klomp, Arthur Stokvis.
"In the Netherlands there is, according to Katarina Zdjelar, not really a climate on debating art. She noiced that the Dutch Art Academies spent relatively little time on theory (philosophy, history, sociology, and art theory). Knowledge of these boxes helps you by positioning yourself as an artist. As in Serbia, the Art Academies are associated with a University, so there a theoretical base is for granted". (Tubelight, #65)
Januari 14 till Februari 6
Opening Thursday Januari 14 at 4 pm.
Once Mohr - Masterstudents of the Frank Mohr Institute / Hanze University Groningen will present their work in the DeFKa Campis. With students from MFA Painting, MFA Scenography en MFA IME.

With: Rongrong Bi, Yuan Gao, Willemien Mostert, Thijs Jansen, Sanne Klijs, Erik Tode, Jan Wattjes, Eleanor Grootoonk, Sonja-Vanessa Schmitz en Grace Ballestero Bello.
Thursday January 28th at 19.00 hrs
Live Stream Poetry
On National Poetry Day a live broadcast by Radio Assen/"Het Lokale Brein", with poets and public, directly from Iwema Bookstore in Assen. Performances by Hagar Peeters, Egbert Hovenkamp II, Nicolette Leenstra, Gert Wijlage, Adrie Krijgsman and Peter van de Peppel. Also a poëtic videoproject by Gauke Zijlstra. Radio-frequencies on www.rtvassen.nl
Location: Boekhandel Iwema, Gedempte Singel 11, 9401 JM Assen
Entrance: € 5,- Euro (Koffie and/or tea included).
Information: info@iwema.nl 0592 - 31 75 19 of info@defka.nl 0592 - 31 53 16
2009

27 November at 4.30 p.m
The yearly Sandberg lecture by Thijs Lijster (philosopher) on autonomy in contemporary art versus engagement and the role of the art critic. The lecture will be followed by a discussion. Thijs Lijster received the ABG VN Essay Award 2009.
November 26 till December 12
Hidden Spaces. A residence-project in the DeFKa projectspace by Greg Que and Wia Stegeman. On invition by DeFKa they started around half October with the building of their installation 'hidden spaces'.
In 'hidden spaces' they mirrored room 25 in room 24. By neutralizing the hidden room 25 new spaces and restspaces become visible'.
The finissage of the installation will be on December 12, of from 3 pm. Until December 12 the installation can be visited om Thursdays, Fridays and Saturdays from 1 till 5 pm. From december 12 till 19 by making an appointment: telephone 06 40 66 27 67 or 06 44 14 24 78
November 15 till December 12
At the group-exhibition Against Pragmatics artists from different disciplines will focus on the relation between art and craft, on the one hand the accent on art and knowledge, on the other hand the idea of 'back to school': working with basic materials, paint, society - 'practice-based'.
With additional questions like: What do you stand for? What is your focus? Or: do you have normative aspects which could be interesting to me? Do you work with a conflict, or do you rhizome a new horizon?
Of course "every issue brings its own measures" (Simon Blackburn), its evidently your problem, but there will be moments that it also touches me or someone else.
Against Pragmatics marks the 15th anniversary of DeFKa, on a new location, and can be seen as a post ironic challenge on titles like 'Against Interpretation' (Susan Sontag) and 'Against Method' (Paul Feyerabend). With this exhibition DeFKa doesn't want to look back in a nostalgic mood, but will expressly explore new possibilities and challenges for the near future.
Participating artists are Frank Sciarone, Eric Martijn, Folkert Joore, Stephan Sjouke, Henry Alles, Roy Kooymans, Bouke Groen, Erica van Loon, Remco Torenbosch, Margriet van Weenen, Floris Kruidenberg, Victor Ackerman (architect) and Thijs Lijster (philiosopher). And for a more extensive presentation: Susanne Bruynzeel, Mariet Offermans, Jannie Vinke and Albert Raven.
The opening will be Sunday, November 15 at 4 p.m by Suzanne Wallinga, cultural scientist/curator.
November 7 and 8
Open Atelierroute Assen, with a final meeting in DeFKa
September 13
Open Monumentday. The DeFKa Campis location, the former Veningerlandschool, will on this day be opened from 11 till 17 hrs. as an example of school-architecture. There will also be a small performance-festival with theater, performances, film and an artist reading.
At 13.00 hrs Michelle van Aggelen (theater/performance).
At 14.00 hrs film and artist-reading by theaterdesigner Maria Noel Dourron.
At 15.00 hrs Floor Rieder/Yoko Heiligers with theater.
At 16.00 hrs Jaime Ibanez with theater.
Off 14.00 hrs the film 'Een dagje naar Assen' by Anne Jaap de Rapper and Barthold Boksem.
September 6 till October 4
Photography, as a satelite of the Photomanifestation Noorderlicht in Groningen. With a solo-exhibition 'Between arrival and departure' by artist/photographer Annegien van Doorn. Also with work by the photograpers Dirk-Jan Visser, Martin Roemers, Sake Elzinga and Harry Cock.
The opening will be on Sunday, september 6 at 16.30 hrs.
June 28, at 15.00 hrs
On the Day of the Architecture there will be a discussion with artsts and architects on infrastructure (Florijnas Assen) and mobility, with amongst others Anne Jaap de Rapper, Frans Beune, Geert Hoving and Gert Wijlage. General public is welcome.
June 12 till July 4
Giudici, per la gloria e per l'onore.
A presentation by the Architectuurpodium Assen, the Cercle Meudon, on the architect Giudici and the city of Assen. Giudici in 1809 made an urban development plan for the new city of Assen. De exhibition will from thereof make connections with the present and oncoming situation in Assen, for example the Florijnas - see also june 28.
With amongst others, an artproject by Anne Jaap de Rapper with the titel The Circus of the Lame King.
The exhibition will be opened on Friday, June 12, at 16.30 hrs by Bart Rijsbergen.
May 22 till June 20
Lok.04 en Lok.05
Die gute Stube / De gezellige huiskamer.
Presentation by five artists from Bremen, Germany: André Sassenroth, Erika Plamann, Tom Gefken, Thomas Behling and Heiner Preissing.
These artists are all committed tot GaDeWe, Galerie Des Westens in Bremen - www.gadewe.de – wherewith DeFKa has good relations since the year 2003.
"Die gute Stube, wie man sagt, ist der besondere Ort eines jeden Hauses, hier kommt man zu speziellen Anlässen und Feierlichkeiten ebenso zusammen wie zur Diskussion der kleinen und großen Themen des alltäglichen Lebens. Sie behütet und verbirgt die Schätze und Geheimnisse einer jeden Familie, andererseits kann der aufmerksame Betrachter in ihr lesen wie in einem Buch. All die privaten und intimen Details erzählen von Geschichte und Geschmack ihrer Eigentümer.
Ob und inwieweit dieses Bild Dynamik und Befindlichkeit unserer heutigen Zeit wiederspiegelt, und ob die Künstler der Galerie des Westens in ihrer temporären Wohngemeinschaft eine solche gute Stube in den neuen Räumen der Defka präsentieren werden, all das bleibt abzuwarten."
May 17 till 30
New York – Nieuw Amsterdam.
A project on New York as an Art Metropolis and source of inspiration, and on the historical relation New York – Nieuw Amsterdam. With in the Central Hal the exhibition Masses and Tributaries by the American Artist Ellie Irons and in Lok.00 the video-presentation It never sleeps by the Bulgarian artist Mina Minov. There will also be documentation on the historical relations New York – Amsterdam – Nieuw Amsterdam.
Opening on Sunday May 17 at 3 pm with lectures on New York by Ellie Irons, Mina Minov, Petri Leijdekkers en Gert Wijlage.
Ellie Irons: "Through my paintings, drawings and sculptures, I explore the continuum between humanity and nature. In my most recent work I'm investigating organic branching patterns and how they compare to man-made structures and systems. These patterns are visible all around us everyday, from the limbs of a maple tree to the tributaries of a river system to the delicate veins in the wings of a dragonfly. Reoccurring structures like these are reminders of the larger and smaller patterns layered throughout our world, from the microscopic arrangement of cells to the massive organization of ecosystems. I am interested in the complexity and fragility of these structures, and also their mysterious resilience. While I base my research on ecology and observation, the art I create is infused with a need to celebrate the unknowable aspects of nature and our place within it."
till June 6
SMAHK (Municipal Museum Assen for Contemporary Art), a presentation by four artists from Assen: Lydeke van Dulmen Krumpelmann, Sikko Mulder, Arend Kuiper en Rudie Hoegen.
April 3 till 25
Lok.05, Solo-exhibition Chris Brans.
Lok.04, Solo-exhibition Lucas den Boer.
Opening on Friday, April 3 at 4.30 p.m..
February 8 from 3 till 5 pm
Topical session: 'New York State of Mind?'
This topical session will be in line with the exhibition Receive Life Changing Information and a project on New York later this year in DeFKa. One of the students, Mina Minov, will talk about his experiences as an art-student in New York. The other participants are Margo Slomp (tutor art theory at the Frank Mohr Institute/MFA), Agnes Baas, Rixt Horstmann and Mare van Koningsveld (masterstudents art history).
New York celebrates its 4th centennial.
Entrance free.
January 29
A program on National Poetry Day with live recitals, performances and interviews.
January 16 till february 8
'Receive Life Changing Information' An exhibition by four finalexamstudents at the Frank Mohr Instituut/MFA painting in Groningen: Julie van der Scheer, Mina Minov, Ron Amir and Larissa van Zanen.
The Frank Mohr Institute/MFA Painting in Groningen is the Masterde education on the School of Fine Arts, Hanze University Groningen. See also www.mohr-i.nl
On Thirsday januari 15 at 16.30 hrs. the exhibition will be openend by Sicko Heldoorn, Mayor of Assen. (See also februari 8)

2008


December 19
Mediterranian Literairy Festival.
Under the titel The Optimism of Love, poets with various cultural backgrounds will perform in Assen. The festival wille be held for the 7th time and is for Assen organised by DeFKa.
Programm Friday te 19th of december:
3 till 4.30 pm in Theatercafé De Kolk at Warenhuis Vanderveen (4th Floor) with recitals by Djodjie Rinsampessy, Hassan Golbang Khorasani, Egbert Hovenkamp, Geert Loman, Mowaffk Al-Sawad and Theo Pattinasarany.
noon till 6 pm in DeFKa, Vaart NZ 2, 9401 GM Assen with documentation and a photoreport by Ad van Denderen.
7 till 9.30 pm Cultural Café Xapoe, Oude Molenstraat 32A, 9401 DD Assen with a introducing lecture by Gert Wijlage and recitals by the Mediterranian poets: Çiğdem Sezer (Turky), Hanane Aad (Libanon), Maria Angeles Perez Lopez (Spain), Fadma El Ouariachi (Marokko), Agni von Meijenfeldt-Fournaraki (Greece), Lucrezia Lerro (Italy), Hanadi Zarka (Syria) en Froukje van der Ploeg (Netherlands). Music during the intermezzi by Deniz Payzin. The programm finishes with (mediterranian) music and recitals by Lilian Hoogendoorn and Adrie Krijgsman. No admission.
November 7 till 30
De Kraai van Walter. Opening on Friday, november 7 at 4.30 p.m.
A research-project around the relation Art-Not Art, with subthemes on humor and irony in art and the possibility of a post-ironic convincion. A number of artists and theoretics are invited to participate, visual and/or textual. The purpuse is to make a presentation and, with the textual contributions, a paper.

As the first and second world wars, for many made an end to the possibilities of poetry, so ended 9/11 and the bankingcrises 3/18 2008 for many an end to the possibilities and the freedom of postmodern relativism. Thinking on the importance of humor as karakterized in modernism by Henri Bergson (Le Rire, 1901), in his own way ironized by Bruce Nauman in the Clown's Torture (1987) en made to science by Arthur Koestler in his Janus (1979) we, with 'De Kraai van Walter' (from Walter Benjamin) want to search for spaces or gaps in art and arttheory which can create actual options concerning the contemporary, selfcentered discours on art.
Participating artists: Wouter Dijk, Judith Spijksma, Produzentengalerie GaDeWe Bremen (Thomas Behling, Tom Gefken en André Sassenroth), Tjarieke Knot, Ruth Verraes, Ronella Enter, Susanne Bruynzeel, Marinda Veeneman, Raoul Teulings, Willy Oster, Michelle van Aggelen, Eric Martijn, Emiel Landkroon and art initiative Comafosca from Alella Barcelona.
Participants publication: Adrie Krijgsman, Marion Bertram, Hans Maes, Wouter Dijk, René Boomkens, Ruth Verraes, Ronella Enter, Gert Wijlage, Sue-an van der Zijpp, Judith Steenkamer, Michelle van Aggelen, Eric Martijn, Petri Leijdekkers en Raoul Teulings.
Sunday november 30 at 4 p.m. The yearly Sandberglecture, this year by Henk Slager (Mahku - Utrecht). The lecture will also follow the theme of De Kraai van Walter; Art and Nonart.
September 19 and 20
Strax # 5. A festival with performances, recitals, music and other surprises.
With Noachs Kat, Diederick Cock, Angelique van Os, BrugmanVanDijken, Gert Wijlage, Michel Berends, Bart van Mulkom, Ingrid Verbruggen, Herman Roozen, Adrie Krijgsman, Marielle Videler, Plan Kruutntone en Egbert Hovenkamp II.
September 11 till October 26
Zimbabwe Exodus
An exhibition with photography by Dirk-Jan Visser, winner Silver Camera 2007. This exhibition also as a satelite from Photomanifestation Noorderlicht in Leeuwarden. Dirk-Jan Visser (1978) is a freelance news- and documentary photographer. His work is mainly focussed on the impact of big political discisions on the lives of ordinary people. In 2005 he publiced 'Brave New Kosovo'. Dirk-Jan Visser grew up in Assen – and this will be his first presentation there.
Web » www.dirkjanvisser.com

The official opening is Sunday, september 14 at 3 p.m. This exhibition will also be open on Sundays from 1 till 5 pm.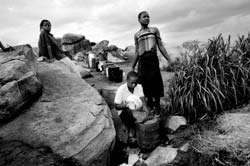 Sunday June 22 from 15.00 till 17.00 hrs:
On Sunday June 22, the Day of Architecture, there will be a discussion on te International Style and Theo van Doesburg in realtion to modern building and on the influence of politics on contemporary building.

With:
Bé Lamberts, architectural historian;
Victor Ackerman, DAAD Architects, Beilen;
Wybe Nauta, city-architect Assen;
Bertus Boivin, author;
Geert Hovingh, theorist on architecture:
Martin Hiemink, Asser Historical Foundation.
Moderators: Inge Eshuis, member council Assen and Gert Wijlage, DeFKa.

Location: Keuningzaal, ICO, Zuidhaege 2, Assen.
Free admittance.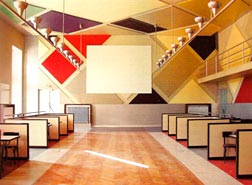 June 15 till July 12
In Concreto, on the International Style.
Opening on Sunday June 15 at 15.00 hrs. by Sicko Heldoorn, mayor of Assen.
The exhibition In Concreto is focused around the work of Theo van Doesburg (1883 – 1931). Especially his influences on architecture, as can be seen in Drachten and will be compared with architecture from the same period in Assen.

We will try to give insight in opposing architectural opinions and the forming of new theories.
The exhibition is made possible by: RAP Architectuurcentrum Leiden, VPRO, Provincie Drenthe, Gemeente Assen, Jan Menses, Museum Smallingerland-Drachten, Stimuleringsfonds voor Architectuur.
May 10 till 18
Participation in the Kunstvlaai Amsterdam. DeFKa has invited Folkert Joore to make a presentation. Folkert Joore makes installations and constructions from raw (used) construction-materials, sometimes with light-objects in it. His installations mostly hold an unfinished character.
May 4 till 31 (cancelled)
The Belgian formation Happy Famous Artists. This presentation will be curated by the philosopher Judith Steenkamer.

April 13
At 15.00 hour 'Wat doet die rode vlek?'
Lecture (in Dutch) by philosopher Onno Zijlstra, ArtEZ school of arts - Zwolle. Free admission.

April 6 till 26
'can you keep a secret?'
Yoko Heiligers and Floor Rieder, both finished their study in 2007 at the ArtEZ school of arts - Zwolle. Since then their work was shown at several (film)festivals and in various galeries.
In DeFKA they will show the hidden drives of ordinary human beeings. They will show, by using various media, the smaller and bigger secrets of life, in works that can be closely watched and sometimes even be touched.
March 2 till 22
'Turn Again'
Gejan Stol and Rudie Hoegen, two artists from Assen, will make a presentation in which photography, video and installations will react on each other and on the different spaces of the building.
March 9
Sunday march 9th at 3 p.m. two lectures (in Dutch) on art and culture in China:

15.00 – 15.45 » 100 years of Chinese Cinema, by doctor Kees Kuiken, tolk-vertaler en onderzoeker te Haren en docent Chinees aan het Talencentrum van de Rijksuniversiteit Groningen.
15.45 – 16.00 » Pauze
16.00 – 16.45 » Freedom of the arts and artists in contemporary Chinese culture, by prof. dr. Stefan Landsberger, bijzonder hoogleraar Cultuur van het hedendaagse China, Faculteit der Geesteswetenschappen van de Universiteit van Amsterdam.
16.45 » Discussie

Where?: De lectures will take place in the Keuningzaal, ICO, Zuidhaege 2 in Assen. Free admittance!

Januari 18 till February 9
'Yes, but...' and 'No, but...'
A presentation by final-exam students from the Frank Mohr Instituut in Groningen: Maria Jager, Henrik Kröner, Maartje Overmars, Sanne Rous, Aldwin van de Ven, Margriet van Weenen en Jenny Wilson.
Opening on Januari 18 at 17:00.

2007


December 9 till 23
'Vice Versa'
Young regional artists present their work: Matthijs Hendriks, Tanja Isbarn, Marjan Brugman, Merijn Vrij, Ilona Hakvoort, Leslie Kamps, Moniek Westerman. Met medewerking van Frederiek Bennema.
Opening sunday december 9, at 4 pm.
Finissage sunday december 23, at 5 pm.
This exhibition will also be open on sundays from 1 till 5 pm.
November 9 till December 1
'Handsome Tofu' The German/Korean artistic duo Gregory Maass & Nayoungim will exhibit in several rooms in the DeFKa-building. Their new productions will be based on the soy-product Tofu.
The opening will be on Friday, november the 9th at 5 p.m.
The artists temselves will be present at this opening. Also on this event a new catalogue on the communal works of Gregory Maass & Nayoungim 'Warped Flow Gadget' will be launched.

The opening speech wil be held by Dr. Sytze Steenstra, philosopher and essayist, working at the Maastricht University.
"A striking trait of the work of Gregory Maass and Nayoungim, probably the first thing most people notice as they enter a show of their work, is its curious air of detachment. This isn't art that wears its emotions on its sleeve. Quite the contrary. Their artworks rebut most straightforward attempts at empathy. Instead of a clear face or posture, something with which one could readily identify, these works present themselves as a series of puzzling constructions. The works are cool and witty, sculptural installations full of allusions, to which the makers often add punning titles and ironic comments. Such cool wit can certainly be refreshing, and I would venture a guess that a good number of visitors of Maass and Nayoungim's shows have not felt the need to look any further. They may have been well satisfied with the conclusion that these are artists with a well-developed taste for bizarre combinations of design, surface and texture in commodity-like sculpture
and drawing."
September 30 till October 20
'Ob Skene'
A presentation on the ethical aspects in photography.
The presentation 'Ob Skene' is part of the satelliteprogram of the photomanifestation Noorderlicht, from september 16 till oktober 28 in Groningen.
Within the the theme of Noorderlicht, 'Act of Faith', DeFKa has chosen for a presentation on the ethical aspects in photography, and media in general.
The opening of 'Ob Skene' will be on Sunday september the 30th at 16.00 hrs.
On Sunday october 14 at 15.00 hrs. ther will be a lecture and discussion on photograpy and ethics. A lecture/statement will be given by the philospher Joke Hermsen and artist Jaap de Jonge. Visitors are very welcome.
Participants in the exhibition:
Hans Koster
Born 1960 in Kampen. Lives and works in Groningen.
Emilio Troncoso Larrain
Born in 1978 in Paris. Lives and works since 1986 in Amsterdam, as a freelance photographer.
Charlotte Lybeer
Born in 1981, lives and works in Roesselaere (B).
Isabella Rozendaal
This Dutch/Brasilian photographer, 1983 Amsterdam, is educated in the USA and The Hague NL.
Eva Schippers
Utrecht, 1980. Lives and works in Groningen and is besides photographer als a performance-artist.
Admission free.
Openinghours during this exhibition: Wednesday til Sunday 13.00 - 17.00 hrs.
September 14 and 15
Strax #4, a two-day performance-event with recitals, live acts en presentations. With Viviane Rose, Drama Voorlees Groep Assen and Jantine Wijnja.

Click here for the programm in pdf.
September 7 till 22
'De wereld is een werkwoord' (The world is a verb), the first part of a series of exhibitions, presentations and publications. Heiner Behrends and Renske Vera de Kam invited for their researchproject a number of colleague-artists to participate. In DeFKa there wille be: Atelier SEVA, Jantine Wijnja, Heitze Spaanenburg, Willem Besselink en Jan Willem Romeijn. Opening on september the 15th at 3.30 pm during Strax # 4 (see above).
June 15 till July 14
'City Extensions'
Een exhibition on architecture, art and public space, with an accent on cityextensions in former harbour areas. With amongst others Freek Lomme, Hanswerner Kirschmann, Frank Sciarone, Folkert Joore, Roger van Hout, Peter Strijbos, Architectenbureau Wim Germain and Bureau Dedo.
Speciaal part is a lease-project in cooperation with the VHDG foundation in Leeuwarden under the titel Franchise. Within this project we will present the English/American artist Liam Gillick, on location Rolderstraat 47 in Assen. More information on this project at www.projectfranchise.nl





April 1 till 21
'BeeldTaalBeeld':
José Tavares, drawings, and Marjolein van Hoek, graphic design. Opening Sunday, april 1 at 16.00 hrs.
Friday, April 20 at 16.00 hrs. a lecture as part of the 'Maand van de Filosofie' by Judith Vega (Philosophy, RUG), on Language and Ideology.
March 4 till 24
'De Ironische Wending/The Ironical Turn.'
Groupexhibition with startingpoint the irony in art, which may lead to new perspectives. Met Anne Dijkstra, Jan Menses, Dick Tuinder, Isis Zwaans, Liseth Medema en Bureau DeDO. On friday March 16 at 16 hrs. a discussion on humo and irony in relation to contemporary art with amongst others Eddo Evink and Raoul Teulings. In cooperation with Festival Vrouwenfilms Assen.
Lecture in the scope of the theme in the book-week 'Lof der Zotheid'.
January 12 till February 10
'Mohr Players' Undergraduatestudents MFA Painting at the Frank Mohr Institute in Groningenen will present their work. Hyun-bae Lee, Nan Hao, Lizhu Chen, Emi Kodama and Ruurd de Jager will, after a working period in DeFKa, show a preliminary proof of a finalexam presentation. The opening of Mohr Players will be on friday the 12th of januari at 4 p.m.
January 25
National Poetry Day - DeFKa will organize a live radio-programme from the sudio of Radio Assen FM. With guests: performances and interviews: by Piet Gerbrandy, Chris Vegter, Egbert Hovenkamp, Adrie Krijgsman, Gert Wijlage, Gijsje Gramsma, Jaap Tempelman, Wibo Veenstra, Geert Loman. Music het Asser singersongwriterduo Tangarine.

2006


November 17
At 16.00 hrs. 3d Sandberglecture by Gijs Frieling (director W139, Amsterdam).

November 3 till 25
Presentation Painting Body/'Jonge Schilderkunst'.
A presentation on actual, investigating art of painting, materials as well as intrinsic/thematical. With two young regional artists Hanna van Doornum and Tjarieke Knot. In cooperation with Kunsthuis Syb and galerie Sign.
October 1 till 21
A thematical exhibition on the relation between art andscience. With installations by Daniel Bennet, Jasper Smit and Kor Smeenge. Opening on sunday the 1st of october at 16.00 hrs. On sunday october 15, there will be a lecture by Petran Kockelkoren (University Twente) on the topic of art and technology.
September 15 and 16
Performance, dance , music en theatre week. A varied project with a lot of improvisation and small-scaled performances by Mariëlle Videler, Klaske Oenema and with a radio-project by Moritz Ebinger.
With Brugman van Dijken, Drama Voorlees Groep Assen, Mieke Dijkman – klassieke zang, Veenradio - Moritz Ebinger (live op Radio Assen FM op 105,5 of 107.8), Miek Hoekzema, Marielle Videler, Klaske Oenema, Naaldbergtrio – muziek.
In co-operation with:
Stichting ZET en Montevideo / Time Based Artists.
27 augustus t/m 23 september
International Groupexhibition. A total of 13 young artists from Poland, Germany and the Netherlands will show a great variety of artforms, installations, performances, sculptures and multimedia.
From Poland (Poznan): Maciek Sarna, Ewa Matuszewska en Dagmara Szabtowska. From Germany (Dresden) Stefanie Tatzik, Marco Miersch, Yasmin Alt en Gernot Schindowski. From the Netherlands(Groningen) Nina Wijnmalen, Nina Glockner, Menno Hoekstra, Esther de Graaf, Roland Wisselink en Jaime Ibanez.
De presentation will be opened on sunday augustus 27 at 16.00 hrs..
After earlier exchange-exhibitions with GaDeWe in Bremen and Het Noodzakelijk Zwijgen from Flanders/Belgium DeFKa hopes for an exchange next year with artistsinitiatives DOPPEL DE and Galerie Am 7ter Stock in Dresden.


June 11 till July 2
Nieuwe Kaart. An exhibition on actual relations between visual arts, architecture and the design of public space. The transition from an urban structure to a scenic order. With Sjanet Bijker, Hanswerner Kirschmann, Rapp+Rapp architects. On july 2th at 15.30 hrs: Lectures and discussion on environmental planning and the position from public assignement art, with Chris Moller, S333 architects and Hans van der Markt (Design Academy Eindhoven).
May 6 till 13
DeFKa-presentation at the 6th Kunstvlaai in Amsterdam by Gejan Stol and RudieHoegen.
April 28 and 29
The 'Teuntheater' with the short monologue 'Vierkant achter jou' – A digital approach to love. Actor: Aad Wesseling. Text and direction: Bart van Mulkom. 'Vierkant achter jou' is part of an evening with a retrospective on former plays by the 'Teuntheater.'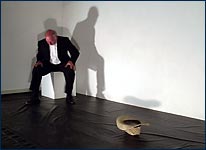 April 27
The debate on 'Art and Ideology' at the Academy Minerva is cancelled on request by Minerva.

April 2 till 23
Solo-presentation with installation-art by Francine Claassen.
April 9
Lectures and debate by Carlos Reijnen, Barend van Heusden and Michael Huig on european art and culture, the idea of a europian identity – focused on Milan Kundera. Location DeFKa, 14.30 till 17.00 hrs. Admission € 5,00.

March 5 till 25
Fotopresentation 'Sogni d'Oro #6' by Carmen Martino and Harold Koopmans.




February 11
The DeFKa-debate on Local Culture. Because of the councel elections on the 8th of march DeFKa organizes a debate with local partys, politicians etc. Live on Radio Assen FM. From 2 till 5 p.m. in DeFKa.
26 januari
National Poetry Day.
From 7 till 8 pm live performances on Radio Assen FM.
From 8 till 9 pm local poets in DeFKa.

January 15
At 3 pm a Lecture by Peter Sonderen, director of ArtEZ-Enschede, on art and esthetics in historical perspective. The lecture is in Dutch.

January 9 till February 11
Presentation by four students at the Frank Mohr Instituut/MFA: Alex Winters, Rachel van Balen, Sibylle Eimermacher en Saskia Koops.
Official opening on januari 13 at 4 p.m. by Albert van der Weide and Petri Leijdekkers.

2005


November 6 - 27
Mindscapes & Shapes. Installations by Regina Verhagen and Eleonoor van Beusekom.
Tuesday October 18
In DeFKa or Theater De Kolk, Vaart NZ 2-4, 9401 GM Assen. At 20.00 hrs a performance on soundperception by Karl Klomp and Tom Verbruggen, at 20.30 hrs followed by 'Sound of Silence', a lecture by Arnold Meijster from the Rijksuniversiteit Groningen, with directly after a discussion on soundperception.
October 2 - 23
Sound Visuals. A project on sound; from musical compositions to soundscapes and various fragments of sound. These will many as posssible be visualised in the form of (multimedia) installations.
With Joost Nieuwenburg, Floris Kruidenberg, Nathalie Bruys, Leon Spek and Annette Behrens.
Opening on october 2nd at 16.00 hrs with the singer Mieke Dijkman.

September 14 till 18
InterTekst & Context
A project on youthculture with a variety of young local artists.
June 27 till July 10
WINTERTUIN
During this period, four Asser artists will start working in the Wintertuin (a glass house) on the Vanboeijen-location in Assen: Gejan Stol, Rudie Hoegen, Ruud Mast en Mieke Hoogeveen. During the period there will also be performances.
This project with artists on location is organized by DeFKa in cooperation with the CBK Drenthe. On sunday july 10 at 15.00 hrs. there will be a finissage with a drink and a closing speach.
June 3 till July 3
ARCHITECTURE - Project on Environmental Development - Regional vision on the Assen-Groningen network in relation to the Nota Ruimte by the Dutch Government. Artists: Kie Ellens, Anneke Wilbrink, Moritz Ebinger, Bureau DEDO, Alan D. Joseph. Architects: ONL (Oosterhuis & Lénárd), Wiel Arets Architect & Associates, Axes Architects, Architectuur Sudio Herman Hertzberger/Laurens Jan ten Kate.

June 9
Forum and debate on the Groningen-Assen (planological) region, especially on the Cultural Infrastructure. From 15.00 till 17.30 in Theater De Kolk, Vaart NZ 4, Assen. Participants: Kie Ellens (artist and advisor Rijksbouwmeester), Jaap Wijma (program-manager Regiovisie), Petri Leijdekkers (Hanzehogeschool Groningen FMI/MFA), Michel Berends (alderman municipality Assen) and chairman Peter Bennema (Astron).

April 17, 15.30 till 17.00 hrs.
Reading (with discussion) by Tine Wilde.
Titel: 'Remodelling Reality!'
Statement: Installationart is an artform which also questions institutional assumptions and conceptueal frameworks. While arthistory does not seem to be concerned with the wordly dynamics, in the coalition of philosophy and art new and meaningfull connections can be made visible.

April 3 till 23
BRAINTEC Humanupload - Solopresentation on which DeFKa will be transformed to a medical laboratory, in which visual arts and actual social deveopments will be examened.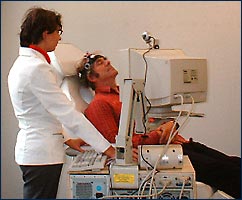 March 6 till 26
PROJECT by Rob Nypels (academy teacher photography - Minerva) - Installations with photography and literary contributions by Kees 't Hart. New work will be made, visual as well as literary, specially for this project.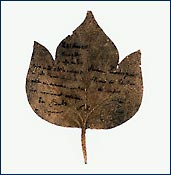 January 27
National Poetryday:In DeFKa this year not the standard performances which are held everywhere else in the country. Instead you can compose your own poems assisted by language- and wordgames.
From 20.00 - 23.00 hrs. in DeFKa.
Free admittance.

January 21 till February 12
PRESENTATION MFA DeFKa - Workingperiod and presentation by students of the Frank Mohr Instituut (Institute for Advanced Studies and Research in te Arts and Emergent Media, Hanzehogeschool Groningen.
With Marielle Buitendijk, Berndnaut Smilde, Annegret Kellner, Lucienne Pareira, Jeroen Brouwer, Jeroen Glas and Jan Bokma. Info at www.mohr-i.nl
Opening on Friday, januari 21 at 16.00 hrs

2004


December 10, 16, 17, 21 and 23
Visual Arts & Theater.
An intriging combination of photography by Gejan Stol (with 'Windvangers') and a theaterperformance bij the Teuntheater (with 'De man in de wolken').
There is a maximum of 9 persons each performance.
Starting time 20.30 hrs.
Admission 6 euro.
Reservations 0592 318527 (between 18.00 en 19.00 hrs)
More information: www.teuntheater.nl
November 7 till 28
DeFKa was founded in 1994 and exists 10 years. We give this fact extended attention, with the book 'Kunst, niets gaat voorgoed verloren' written by Gert Wijlage end with an exhibition in which there will be shown: publications, documentation, and the DeFCollection.On the opening the first copies of the book 'Kunst, niets gaat voorgoed verloren' will be handed out to Martin Hiemink (Asser Historische Vereniging), Adrie Snoek (cultuurliefhebber) en Roelof Offereins (CBK Drenthe).Music (electro) on the opening by: Cockney (Wytse Schaafsma).
On sunday November 28 DeFKa introduced the 'Sanberg Lectures'. Willem Sandberg, de former and famous director of the Stedelijk Museum Amsterdam lived almost his entire youth in the city of Assen. The lectures will be focused on contemporary art in historical perspective. The first lecture, on the youth of Sandberg will be hold by Max Arian (autor, former journalist with the Groene Amsterdammer and working on a biography on over Willem Sansberg).Following the lecture ther was a discussion on the task of the artist - art versus creativity and is the occupation of (engaged) artist a dangerous one? - based on two quotes by Sandberg en Albert Camus. With a.o. Petri Leijdekkers (Frank Mohr Instituut Groningen), and Gert Wijlage and Adrie Krijgsman (DeFKa). Music by Jojanneke Vanderveen (singer/songwriter, piano)

October 3 till 23
BEWEEGREDENEN/OP DRIFT - Surveyproject on Arts and Philosophy in relation to 'movement'. Installations, texts and interactive CDR's. With Henry Alles, Paul Walboom, Leslie Kramer, Dimitri Feenstra, Lars Klungel, Monica Auch, Mark Bisschoff, Adrie Krijgsman, Pedro Bakker/de Koefilosoof, Raymond van der Weide, Guido van der Woilk, Geert Hovingh and Marcel Cobussen.
With previous on the opening on october 3 at 15.00 hrs. a lecture by a.o. Bert Otten (Human Movement Sciences - University of Groningen)(zie also Podium - Adrift)
September 17, 18 and 19
THEATER, TEKSTEN & DAKGESPREKKEN - performance and theaterweekend with performances, recitals, texts and video's.
» Egbert
Hovenkamp
» Helmer
Andersen's
Don Juan
in Hell Show
June 20- July 11
TRANSPOSITIONS
International exchange with an artists' iniative

May 21 - June 12
Group exhibition: theme 'Architectural Concepts'
Art, architecture and public environment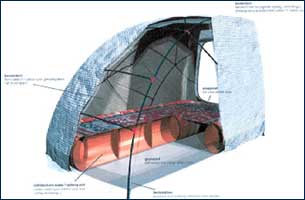 April 18 - 1 May
Solo exhibition Marcel Bors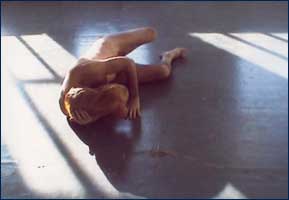 March 21 - April 10
'Fecit' - Solo exhibition Anne Dijkstra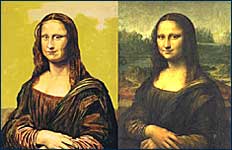 March 11, 20.00-01.00 hrs.
Theatre De Kolk, Assen
Presentation, design and performances Asser Boekenbal
February 22- March 12
Exposition in DeFKa and Theatre De Kolk, Assen.
Theme 'Ontmoeting met Frankrijk'.
Participating artists: Gerrit ter Beek, Betty Simonides, Marie-Pierre Petit, Peter Veen/Saskia Boelsums en Henk Pompstra.
» Après le dessert
Acryl on linnen 130 x 115 cm
artist:Gerrit ter Beek
January 23 - February 15
Expo 'Buiten Verblijf' i.c.w. Frank Mohr Institute.
Three students form the painting department – Petra Kooi (installations/photography), Marcel Swint (paintings) en Alwin Bootsma (installations)
| | | | | | | |
| --- | --- | --- | --- | --- | --- | --- |
| | | » Alwin Bootsma | | | | » Petra Kooi |
January 29
National Poetry Day.
From 20.00 - 23.00 hrs. recitals and discussion on the fenomenon 'National Poetry Day' by a.o. Ronald Ohlson (Literary prof. RUG) and Maarten Doorman (poet, critic). Panel chairman Gert Wijlage. Also with Maarten Doorman, Erik Hartevelt, Egbert Hovenkamp, Jaap Tempelman, Gerard B Berends, Gijsje Gramsma en Adrie Krijgsman.
Performance by Brugmanvandijken.

2003


November 9 - 29 (Opening in DeFKa on Sunday November 9 at 16.00 hrs.)
Solo exhibition Freja Roelofs 'Suiker en Pokon' - installations.
November 23, 16.00-18.00 hrs.
Literary Matinee (entrance € 2,-)
The poets collective 'Noachs kat' from Groningen, with a.o. Hubert Klaver, Detmer Hubbeling, Hassan Golbang Khorasani and Chris Houwman. Detmer Hubbeling and Chris Houwman will accompany some poems on guitar and piano. Further with Gert Wijlage, Egbert Hovenkamp and o.c. the new RUG-poet Annelieke van Mens.
» 'Noachs Kat'
Chris Houwman
» Annelieke van Mens
October 3 – 25, (opening October 3, 16.30 our, music: Gertie Bruin)
Manifestation Maelstrom
Regional, national and international relations and the influences of those relations on art and artists (the artists' environment).
Presentations: Bernd Eilts, Instituut voor de loslopende mens, Monika Auch, André Colinet (video), Sebastián Díaz Morales/Boukje Barbara Janssen (video)
» Instituut voor
de loslopende
mens
Oktober 9, 14.30-16.30 hrs.
(music: Noord Nederlands saxofoonduo - Carin van Vleeren, Annelies Vrieswijk)
Statenzaal - Drents Museum, Assen
Maelstrom. Debate with a.o. Mariët Bakker (artistic director Africa in the Picture), Instituut voor de Loslopende Mens (Oscar Prinsen, artist), Sjoerd Wagenaar (theaterprojects/artist), Fouad Laroui (author), u.r. Ineke Schwartz (Raad voor Cultuur) and Chairwoman Hannie Rijnierse (head CBK Emmen).
September 21, 16.00-18.00 our
Literary Matinee (entrance € 2,-)
Special guest will be the poet/columnist Rob Schouten, who will be interviewed by Willem Groenewegen.
Further: columns en recitals by Guido van der Wolk, Gert Wijlage, BrugmanvanDijken, Adrie Krijgsman en Egbert Hovenkamp.
» dichter/
columnist Rob Schouten
» Brugman-
vanDijken
» Band:
Joost & Friends
June 8
Dansperformance JCCOMPANY

May 18 – June 15
'Project Ontwikkeling'. Art and public environment/architecture.
With Nelly Nolta, Gerry Eulink, Adrie Krijgsman/Jan Menses, Herman Eilering, Anke Boelens.
On June 15 a debate in Theatre De Kolk Assen: Geert Hovingh, Laurens Jan ten Kate (Studio Hertzberger), Fred Huurman.
» Gerry
Eulink
» Adrie Krijgsman
& Jan Menses
April 20
Philosophy-lecture by André Klukhuhn

March 13
Poetry programme Asser Boekenbal in Theatre De Kolk, with a dozen poets from the region.

March 2 - 22
Exhibition i.c.w. Theatre De Kolk and Galili Dance Groningen.
With Henry Alles, Willy Brugman, Bernd Eilts, Anja Swint, Adrie Krijgsman, Joke WF and Gert Wijlage.
» Willy
Brugman
» Anja
Swint
» Joke
WF
February 28 - March 28
Exhibition in Gallery Des Westens, Bremen.
Gert Wijlage, Adrie Krijgsman, Willy Brugman, Beekmans, Peter Veen/Saskia Boelsums, Betty Simonides.
» Adrie
Krijgsman
» performance
opening exhibition
January 30
Landelijke gedichtendag (National Poetry Day) – Public Library Assen, ICO en department store Vanderveen Assen.
Recitals by Gert Wijlage, Adrie Krijgsman, Willem Groenewegen, Ireen v.d. Knoop, Gerrit ter Beek, Jaap Tempelman, Rieks Siebering, Gerard B. Berends, Herman J. van den Bold, Astrid Lampe en Ilse Starkenburg.
Music: Me Jane. Poetry-dinner in DeFKa.

January 24 – February 16
Presentation project i.c.w. Frank Mohr Instituut, Groningen.
With Dinanda Luttikhedde, Dimitri Feenstra and Leslie Kamps.
» Dimitri
Feenstra

2002


November 24
Literary Matinee

November 8 - 30
Exhibition Gerry Eulink (photography) and Polranny Pirates with a.o. Marie Oosterbaan, Willem Vermaase and Annie Wright (video)

October 1 - 26
Project Kunst & Partners, in DeFKa, Provinciehuis Drenthe, Theatre De Kolk and Department store Vanderveen in Assen.
An inquiry concerning the possibilities of co-operation.
Opening by Mw. M. Brink-Massier (gedeputeerde Cultuur)
and lecture by Drs. K.J.J. Korevaart ( Universiteit Leiden - Kunsten en wetenschappen), Herman J. van den Bold (poetry), BaxBrontsBakker en Smeding (music).
» philosophical
toepen
(a card game)
with the
cow-philosopher
» Hemelsbreed
'The Building"
» beeldenroute
door Assen
Presentations: Hemelsbreed (Marjolein de Groene/Peter Jordaan), Orgacom (Teike Asselbergs/Elias Tieleman), Pedro Bakker, Wobke Oldenburger, Jan Menses, www.poezieweb.nl, Henry Alles/ VistaWorks, Kai Schiefer (Kunstruimte Wagemans), Galili Dance, Radio Worm, GaDeWe Bremen, Studio Herman Hertzberger, Worm (film), Arjen Mulder (lecture on "Levende Systemen") and the publication of Oogappels, a walking and bicycle route leading along art, architecture etc. in the public environment in Assen

September 22
Literary Matinee with special guest Herman J. van den Bold, also presentation of his new publication 'Deksels Katers'.
» performance
Herman J. van den Bold
June 23
Literary Matinee with special guest Fouad Laroui

June 16 - July 13
Exhibition 'Nieuwe ervaringen' (New experiences), with works by Anja Walczak, Betty Simonides, Berndnaut Smilde, Sejo Slingenberg

June 14
'Wakker' (10"), video film by Filidor Wiese/oni mediadesign, being a final examination, Academy Minerva Groningen.

May 10 - 31
Double exhibition 'Stadhuys DeFKa'.
DeFKa presents a group-exhibition as well as documentation and new plans for the projected Cultural Quarter in Assen.
Presentations in the DeFKa-building and the Town Hall in Assen.

April 14
Literary Matinee i.c.w. Noachs Kat

March 17 - April 13
Exhibition Klaus Baumgärtner with spatial art and Sylvia Händel with collage/copy art.
» Klaus
Baumgärtner
March 15
Asser Boekenbal in Theater De Kolk.
DeFKa presents 'Dichters in Vogelvlucht'

March 3
Debate 'Regionalism in art and culture', with René Boomkens, chairman: Henk Weggemans.

January 31
Gedichtendag (Poetry Day)
Recitals by a.o. Gijsje Gramsma, Willem Groenewegen, Gert Jan Laan, Herman H. van den Bold. Special guest: K.Michel.
Presentation 2nd Lima-publication.

January 27 – February 23
BKVP + VERNISSAGE, art, design, poetry and theatre with a solo presentation by Carien Scheepstra and i.c.w. Brug Boutade: Marc de Vree, Jaap Thoenes, Lex Bekink, Sylvia Merschmann,Pjotr Wiese, Ingrid Reynders, Henk Gruppen, Arjan Grooten, Kees Folkers, Filidor Wiese & Arthur v/h Hoog.
(February 7 till10) VERNISSAGE, one-act play written by Vaclav Havel, performed by Janna Koops, Rob Tuijt en Jan Pentinga, directed by Bart van Mulkom.

January 10 – February 10
TEM Galerij, Leeuwarden
i.c.w. Harald Klinkenberg a DeFKa presentation in the Noordelijke Hogeschool Leeuwarden, works by Joop Striker, Gerrit ter Beek, Willy Brugman, Gert Wijlage, Adrie Krijgsman, Saskia Boelsums/Peter Veen.

2001


December 2
10th matinee, recitals by Jannie Boerema, Daniel Dee, Petra Else Jekel, Peter de Groot, Lucas Koops, Rieks Siebering and special guest Tonnus Oosterhoff.

November 10 - December 7
Solo exhibition 'Life Sciences', directed by Guus Slauerhoff.

October 7 - 27
Manifestation 'Speerpunt Drenthe', informative group exhibition on the initiative of Jan Menses.
The exhibitors are: Marcel Kampman, Lizette Veenhuizen, Gejan Stol, Loes Heebink, Wim Starkenburg, Saskia Boelsums, Peter Veen, Calista Jippes, P.D.Immenga, Dimitri Germain, Ineke Broerse, Bjorn Eerkes and PIEK! with Selby Gildemacher and Sander Leemans.

September 23
9th Literary Matinee, with previously a lecture by Joke J.Hermsen on the relation between philosophy and literature.
Hereafter recitals by a.o. Gijsje Gramsma en Tsead Bruinja.
Special guest: Arjen Duinker. Music: Just Friends

June 24
8th Literary Matinee with a.o. Klaas Koops, Berendy Gahler, Marga Kool en special guest Huub Beurskens, all this in the summer-garden of DeFka.

June 16 – July 7
At Ateliers' 93 in Hengelo are exhibiting Anja Walczak, Adrie Krijgsman, Joop Striker, Gert Wijlage, Koos Dijkstra, Gerrit ter Beek, Willy Brugman, Mike Jagt, Gejan Stol, Buro DEDO.

June 16 – July 7
Exhibition 'Binnen Steden' in co-operation with Ateliers' 93 from Hengelo.
Participants in DeFKa: Marian Kromkamp, Rob Bloemendaal, Jannemiek Tukker, Regula Jucker, Geja Jansen Manenschijn, Cor Waal, Petra de Vries, Karin Hoogesteger, Jose Anna Maria Verstappen, Danielle Papenborg.

May 6- 26
project-exhibition 'Fier Kwartier'.
Presentation of sketches, paintings, photos, concepts and other personal views on the theme Cultural Quarter, partly made during the exhibition. With Gerrit ter Beek, Johan Rumpt, Robert Boer, Adrie Krijgsman, DEDO, Koos Dijkstra, P.Blommers/van Uije, Rein Paalman, Aad Trompert, Guus Slauerhoff.
| | | |
| --- | --- | --- |
| | | » Buro DEDO |
April 22
7th Matinee in DeFKa, with Herman J. van den Bold, Suze Sanders, Nicolette Leenstra, Wibo Veenstra, Ernst van Apeldoorn.

March 21- April 14
Exhibition by Jan Menses 'Over Water' (installation) and Nuray Atas (paintings).

March 16
Asser Boekenbal in Theater De Kolk.
'DeFKa Wind', audio-environment with contributions by a.o. Anja Walczak, Peter Veen/Saskia Boelsums, Egbert Hovenkamp, Adrie Krijgsman, Jurgen Partenheimer, Julius, Hansko Visser, Gert Wijlage

January 25
National Poetry Day in Theatre De Kolk and DeFKa. Recitals by poets who normally co-operate in the Literary Matinees and the new poetry website www.poezieweb.nl.
Also publication LIMA 1.
The new site is developed in co-operation with the Public Library Assen.
» Jan
de Wilde
January 21- February 17
'Dezelfde Hoogte', exhibition graphic (mixed) media: Elmar Kuiper, Pieter Ploeger, Herman Noordermeer, Johan Holwerda, with Grafisch Atelier Leeuwarden en Atelier/Uitgeverij Plaats Maken uit Arnhem.
DeFKa also presents a publication with graphics by a.o. Willy Brugman, Joop Striker, Gerrit ter Beek, Bert Hemsteede, Gert Wijlage.
Videofilm 'Piet in 4 delen' van Johan Holwerda.

January 1- March 12
Bibliotheek 't Forum, Assen, exhibition with Sita Bandringa, Ruud Mast en Karen Molleman.


2000


November 17
Literary matinee nr.5, i.c.w. Tjitse Hofman, Ali Albazzaz, Rieks Siebering, De Man & De Man, Lucas Koops, Egbert Hovekamp, Kasper Peeters, Gerrit ter Beek.

November 5 - December 9
Presentation correspondence M/M;
solo: Sake Elzinga 'Spaanse Traditie' (photography)

October 7
6th day of the short movie & video.
With Gerard Holthuis: Hong Kong (35mm, 20'), De Stad (35mm, 8')
Erik Wesselo: Oil (16mm, 30')
Sabine Mooibroek: video (4')
Quirijn Kuchlein: videoinstallatie
Sandberginstituut: compilation 'de1minuutvideo' (o.v.)
Music: Ygdrassil

October 1 - 21
Manifestation VAARTTWEE, i.c.w. Alice Bakker,Gerrit ter Beek, Nell Berger, Saskia Boelsums, Willy Brugman, Ona Artcentre, Mike Jagt, Adrie Krijgsman, Jan Menses, Hendrik Planting, Joop Striker, Gejan Stol, Peter Veen, Lizette Veenhuizen, Mirjam Veldhuis, S.Romanos, H.J.Alles, Paul Walboom, Robert Voerman, Anja Walczak, Gert Wijlage.

Included Sunday October 1: lecture/performance by Carolien Schoonevoort (photography) 16.30 hrs. and Friday October 6 a discussion on architecture and urban planning, i.c.w. Koos Haarsma, (city-planner), Rikus Siebring (architect) en Fred Huurman ( urban architect)

September 15
Literary Matinee nr. 4, Theatre De Kolk, Assen.
I.c.w. Erik Harteveld, Piet van Mulkom, Hans van Kooten, Christian Benjamin, Adri Krijgsman, Bart van Mulkom, Tsead Bruinja en RuG-dichters Petra Else Jekel en Daniel Dee, Suleiman Khalaf, Jan Menses

September 3 - November 30
Public Library Assen.
Exhibition with works by Tim Timmermans, Ruth Bugel and Henk Geertsma

June 16
Literary Matinee nr. 3, Grand Café De Compagnie, Assen.
Recitals, performances. Interview with Ilja Pfeijffer.

June 5 – September 2
Public Library 't Forum, Assen.
Exhibition with works by a.o. Peter Verboom, Gerrit ter Beek, Berend Breuker

May 6 - 16
Project presentation Materie/Mysterie on the fourth Kunstvlaai, Amsterdam.
Works by: Lizette Veenhuizen, Irem Kaneli, Anne Verhoijsen, Silvia Steiger, Esben Fest, Gert Wijlage, Sytze Steenstra, Rob Zwijnenburg, Sonja van Kerkhoff & SenMcGlinn, Kees Vuyk.
Solo presentation: Jan Menses, with an audio-visual installation (Westergasfabriek).

April 21
Literary Matinee, i.c.w. Jaap Tempelman, Gerard B.Berends, Sieger Geertsma, Peter Veen/Saskia Boelsums (video), Gejan Stol, Adrie Krijgsman, Gerrit ter Beek, Erik Harteveld, Gert Wijlage, Peter Verboom, Bert Hemsteede.

March 17
'Hippias', videoperformance in Theater de Kolk, Assen, 2000: Egbert Hovenkamp/Gert Wijlage.

February 15 – june 1
"Post-Klassiek", Public Library 't Forum, Assen.
Exhibition with works by Adrie Krijgsman, Jan Menses, Gejan Stol, Rein Paalman, Gerard B.Berends, Willy Brugman.

February 22 - 24
Materie/Mysterie, Academie Constantijn Huygens, Kampen

February 18
Literary Matinee i.c.w. Adrie Krijgsman, Peter Verboom, Henry Alles, Hans Visser, Eric Harteveld, Gerard B.Berends, Jan Menses, Egbert Hovenkamp, Hans van Kooten.


1999


Photography: Harold Koopmans, Arwen Ronner
Drawings: Robert Boer, Eduard Berends, Henk Geertsma
Pars V, accrochage: Karen Molleman, d@rT. Adrie Krijgsman, Gerard B.Berends, Piek Selby, Jan Menses
Kunstruimte Planting-Zutphen: Gejan Stol, Willy Brugman, Jan Menses, Henry Alles, Joop Striker, Gert Wijlage and Peter Verboom
Tussenvormen-3: Wieko Timersma, Max.3 Pers.,Steini Torsson
Materie/Mysterie: Silvia Steiger, Irem Kaneli, Anne Verhoijsen, Lizette Veenhuizen, Gert Wijlage, Esben Fest-Ullrich Kallasch, Sytze Steenstra, Rob Zwijnenburg, Sen & Sonja McGlinn, Kees Vuyk

1998


Schilderkunst II: Roland Sohier, Sikko Mulder, Carien Scheepstra, Patrick Bergsma, Helma Finze
Enter/Tussenvormen2: Andreas Letzel, Vista Works, Ernst Laeven, Quirijn Kuchlein, Paul Walboom.
Presentation project 'Turbulentie' with 40 participants (catalogue)
Pentaglyphics: AV-installation with Jan de Wilde, Hetty Steijger, Rieks Sibering
Schilderkunst 1, Pietertje van Splunter, Adriaan Nieuwenhuis, Joop Striker, Ruth Bugel, Els Karstens, Irem Kaneli, Pim Trooster
Playground: AV-installatie by Jan Menses
» Paul
Walboom

Publications


Tussentijds, Adrie Krijgsman, 2007


Jaarverslag 2005


DeFKaternen 1, 2, 3 (Nieuwsbrieven), 2005


Expressie expres zo, Freek Lomme, 2005


Mitsgader gij den gewonnen walvis tart, gedichtendag, 2005


Jaarverslag 2004


Kunst, niets gaat voorgoed verloren - 10 jaar DeFKa, Gert Wijlage, 2004


Gedichtendag, 2003


Lagen, 2003


Herman J. van den Bold, Deksels Katers, sept. 2002


LiMa, nr. 2, anthology, jan. 2002


LiMa, nr. 1, anthology from the first series of literary matinees, jan. 2001


Materie/Mysterie, pre-publication project, nov. 1999


Burgemeester van Drenthe, Jan Menses, 1999


Turbulentie, 1998, various artists/authors


Een open deur, Bert Hemsteede, 1998


Uit het zicht, Gerard B.Berends, 1997


Over vorm en inhoud in de beeldende kunst, Alice Bakker, 1996


Kunst is de weerspiegeling van het innerlijke, M.Russo, 1995

Brochures/catalogues


Franchise (published by VHDG Leeuwarden), 2008


Wintertuin, 2005


Project Ontwikkeling, Krijgsman/Menses, 2003


De regio als muze, 2003


Maelstrom, 2003


Mens en Ruimte, 2003


DeFKa in time with Galili, 2003


Kunst & Partners, 2002


Regionalisme in kunst en cultuur, 2002


DeFKa 98 - 02, 2002


MICa, 2001


Tussenvormen-2 en 3, 1998 en 1999


Schilderkunst-1 en -2, 1998 - 1999


Fotografie, 1999


Tekeningen e.a. werken op papier, 1999


Pars pro toto, 1999